Description
Col. Paul Tibbets with two of his closest crewmembers, Capt. Dutch' Van Kirk (Navigator) and Maj. Tom Ferebee (Bombardier) discuss final plans for the next morning's historic mission. With the words "Enola Gay" – the name of Paul Tibbets' mother – freshly painted on its nose, the massive B-29 sits in its hardstand, its top-secret cargo already loaded. As Military Police, other members of the flight and ground crews go about their duties, none are certain what the next few days will hold, yet all are aware that they will be playing a role in changing the course of history, hopefully resulting in peace, and the end of the most terrible war the world had yet seen.
Three months earlier, the war in Europe had finally ended; Germany had surrendered, but now a war-weary world continued to hear increasing grim news in the Pacific… Japan refused to surrender and a massive Allied land invasion seemed inevitable. In this horrific scenario, the continued loss of life was estimated to be in the millions, and war would continue indefinitely. In a maximum effort to bring World War II to an end, President Truman was faced with an awful and fateful choice.
Most historians agree that this difficult decision to utilize the atom would ultimately save countless lives. Still a controversial subject more than 75 years after the end of WWII, the fully assembled B-29 Enola Gay went on permanent display at the National Air and Space Museum in December 2003.
THE PAPER GICLÉE EDITIONS

MAIN EDITION
Printed on heavy archival Satin giclée paper each print is personally signed by the artist and includes Certificate of Authenticity & Painting info sheet
THE ARTIST PROOF
Each print is issued with a the companion print: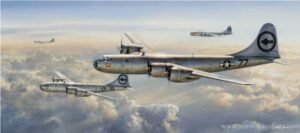 BOCKSCAR & COMPANY
On the second and final atomic mission, August 9th, 1945, the B-29 "Bockscar" makes its way to the target: Nagasaki.
Overall companion size: 10″ x 12″ – Image: 7½" x 17¼"
THE CANVAS GICLÉE EDITIONS
Using the most sophisticated digital Giclée technology, each Canvas Proof is printed directly on to fine canvas creating the look and feel of an original painting.  Each canvas is hand embellished and varnished by the artist.
Available in a number of sizes:
40″ wide x 22″ high, 48″ wide x 26″ high & 58″ wide x 30″ high.