Description
As the USAAF's mighty B-29 Superfortresses relentlessly pounded the Imperial Japanese war machine, few Japanese fighter interceptors could match these high-flying super bombers. The heavily armed Superfortresses, the largest and fastest piston-engined bomber in World War II, were slowly grinding Japan's industrial cities and factories to dust.
Increasingly desperate to counter the threat, the Japanese Air Force turned vainly for salvation to the Nakajima Ki-44 Shoki. Codenamed Tojo by the Allies, the high performance interceptor was designed for speed and high altitude, could climb quickly to 37,000ft, and was one of the very few Japanese aircraft that could challenge the fearsome Superfortresses.
Richard Taylor's painting recreates an encounter on 19 February 1945. As dawn breaks over the Pacific, a determined force of Japanese Ki-44's launch a surprise attack on a large formation of USAAF B-29 Superfortresses as they approach the Japanese mainland. B-29 gunners let rip as one fighter flashes past, with a second fighter closing at high speed. Chunks of the B-29's port wing and aileron have been taken out in the initial attack, and with another Japanese fighter fast on its tail, the outcome of this particular encounter hangs in the balance. A total of ten Superfortresses fell victim that day.
Each print in this edition is issued with the companion print:
INTO THE SUN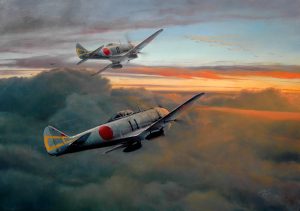 THE LIMITED EDITION
THREE veterans of the Pacific War who flew B-29s in the assault on mainland Japan, have added great authenticity to Richard Taylor's Limited Edition by signing each print. The edition is also signed by the artist, and individually hand numbered.
Lieutenant Colonel RALPH NUTTER
Colonel JAMES PATTILLO
Captain BEN ROBERTSON