Description
Doug Canning breaks radio silence to call the sighting of Admiral Yamamoto's flight over the pacific island of Bougainville, 18 April 1943.
After a two and a half hour, four hundred mile flight just above the waves, mission leader John Mitchell and his 16 ship raiding party push their P-38s to full power to complete one of the most remarkable ambushes in aviation history.
THE LIMITED EDITION
Each print is signed by EIGHT of the P-38 Lightning pilots who flew the most successful intercept mission of World War II:
Colonel JOHN MITCHELL – he flew 457 combat missions in the Pacific and devised and led Operation Vengeance the famous raid to shoot down Admiral Yamamoto in April 1943. He retired as a triple Ace with 15 victories, including 4 MiGs in Korea
Lieutenant Colonel ROGER J. AMES
Colonel REX BARBER – he was credited with the destruction of Admiral Yamamoto's plane on the famous April 1943 mission, finishing the war as an Ace with 5 victories
Lieutenant Colonel DOUG CANNING
Captain DELTON GOERKE
Captain LARRY GRAEBENER
Major JULIUS JACOBSON
Lieutenant Colonel LOUIS R KITTEL – 5 victories
THE PUBLISHER PROOF
Issued with a companion Pencil Print: As a tribute to the countless personnel who played vital roles behind the scenes, some at great personal risk, to enable the success of the Yamamoto mission, this exclusive edition of just 50 Publisher Proofs was issued with a matching-numbered companion print reproduced from an original drawing by Robert Taylor.  Each companion print is personally signed by four ground crew personnel who contributed in a significant way to the success of the Yamamoto mission, as well as another P-38 Ace who flew on the mission, making a total of THIRTEEN signatures.
JACK BENNER – Head of the Motor Pool
ROBERT KAUFFMAN – Aircraft Crew Chief
ALFRED J MAISTRELLI – Aircraft Crew Chief
W.L. "BEARCAT" STUTZ – Asst. Armament Chief
Lieutenant Colonel BESBY F HOLMES – Pilot / 6 victories
THE BACK-ROOM BOYS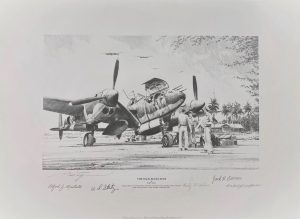 Ground crews on a forward island strip brief a P-38 Pilot on the readiness of his aircraft for flight following a repair of battle damage, Guadalcanal 1943.