Description
"I fear all we have done is to awaken a sleeping giant and fill him with a terrible resolve."
-Attributed to Admiral Yamamoto, Commander-in-Chief of the Imperial Japanese Navy
On Sunday December 7, 1941 the free world had been stunned into disbelief by the Japanese attack on Pearl Harbor. The devastating assault on the headquarters of the US Pacific Fleet had left over two thousand American servicemen dead, most of her battleships destroyed or damaged, and the remains of nearly 200 American aircraft lay in tatters. America reeled from the shock and sheer incredulity.
By 4:10pm the following day America was formally at war, and five thousand miles away the first of the carriers, the USS Enterprise, was returning to Pearl Harbor.
Richard Taylor's painting depicts the Enterprise approaching Ford Island and the smoldering ruins that had been the Pacific Fleet. Ships still burn and the thick smoke hangs in the air as the mighty carrier moves slowly through the outer channel and ever alert F4F-3A Wildcats of VF-6 fly an overhead patrol. Throughout the night the carrier will refuel and re-arm, and at dawn she will return to sea with a steel resolve and a new mission……….to avenge Pearl Harbor.
Each print in this edition is issued with the companion print:
DAY OF THE RISING SUN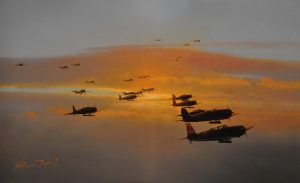 (Companion size is 18 ½" wide x 13 ½" high).
THE SIGNATURES
In tribute to the men who fought at Pearl harbor THREE of the declining number of veterans who saw action that day have joined artist Richard Taylor in signing each print.
Staff Sergeant JAMES ANTHONY DONIS
Sergeant LEO PRIEST
Lieutenant Colonel BERNARD "BERNIE" RUBIEN