Description
Dawn had broken to reveal another glorious day in paradise, and on board the USS Arizona and the repair ship USS Vestal alongside, the crew were taking it easy. All next week they would be hard at work preparing for sea, but today was Sunday, and that meant light duties.
On the Arizona, the duty crew were preparing the stern of the battleship, erecting the awnings for the ships band at Morning Colors. The young officer in charge smiled approvingly, it was an inspiring scene and he thought that the recently overhauled battleship had never looked more impressive.
But within the hour he would glance skyward, and a frown of puzzlement crease his forehead as, out of nowhere, Japanese carrier-based aircraft were descending on the unsuspecting Naval base. As he registers the bright red circles on their wings, the blood froze in his veins. He realized that hell had come to Pearl Harbor!
Then, just before 08.10hrs, the unthinkable happened. A bomb from a Nakajima B5N Kate high-altitude bomber penetrated the ship's armor plated deck and exploded in the forward magazine. Within seconds a cataclysmic blast ripped through the Arizona, devastating the mighty ship which would burn for two days, taking with her the lives of nearly twelve hundred men.
In tribute to all those who lost their lives at Pearl Harbor on that infamous day Robert Taylor has created his poignant, landmark painting. The Arizona has since become the focal point for the memorial at Pearl Harbor and this moving piece portrays this proud ship as those who survived would surely like to remember her – in all her glory prior to the attack.
THE COMPANION PRINT
THE WAY WE WERE – Pearl Harbor, Sunday 7th December 1941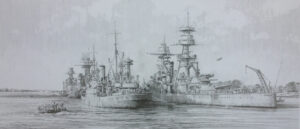 Reproduced directly from Roberts working drawing, this outstanding companion print is issued with every edition of The Calm Before The Storm, creating a fitting commemorative collectors edition for the 70th Anniversary of this historic event.
THE SIGNATURES
No less than FIVE crew that were actually aboard the Arizona on that fateful day have come together to sign this special two print edition to commemorate their fallen comrades. Seventy years after the tragic sinking of the Arizona, this is likely to be the last time that so many of her survivors will be able to join together for such an historic event.
Quartermaster 3c LOUIS CONTER USN
Seaman 1c LONNIE COOK USN
Seaman CLEARDON NETRICK USN
Lieutenant Commander JOSEPH LANGDELL USNR
Chief Warrant Officer EDWARD WENTZLAFF USN