Description
B-17 pilot Charlie Brown & his crew were certain they'd not live to see Christmas 1943… Luftwaffe ace Franz Stigler watched in amazement as this easy prey limped overhead, just as his Bf-109 had been refueled and rearmed. This 3rd kill for him in such a short period of time would certainly win him the coveted Knight's Cross. The prospect was so easy… But upon reaching his helpless foe, would he claim the prize? Or would his conscience demand that he answer a Higher Call?
In one of the most inspiring stories to spring from the horrors of World War II, this honorable man's decision to show mercy to his enemy would one day yield rewards far greater than any his country could bestow- the lives of many men & their grandchildren, and friendship with a one-time for which would equal that of his own brother.
‍
Some print editions include the rare original signature of Luftwaffe ace Franz Stigler.
THE MAIN EDITION
Includes black and white pilot portraits of Franz Stigler and Charles Brown:
THE ARTIST PROOF
The Artist Proof Edition includes the black and white portraits and the original autograph of:
Oberleutnant FRANZ STIGLER
THE PUBLISHER PROOF
Includes the portraits, the Stigler autograph, and the Long First Mission companion print: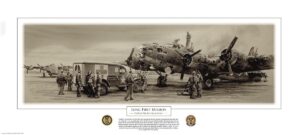 CANVAS GICLÉE EDITION
Using the most sophisticated digital Giclée technology, each Canvas Proof is printed directly on to fine canvas creating the look and feel of an original painting.  Each canvas is custom embellished by the artist.  Size:  40″ x 23 ½"