Description
Fresh from yet another intense combat high over the south coast of England, Flight Lieutenant Tom Dalton-Morgan and his wingman fly their Hurricane MkIs of 43 Squadron back to base at Tangmere.
The long balmy summer days of 1940 provided perfect flying weather for the vast armadas of Luftwaffe bombers and fighters wreaking havoc over the southern counties of England.  As summer wore on, the enemy stepped up their attacks on airfields, radar stations, and shipping in the Channel, leaving RAF Fighter Command stretched to near breaking point.  The Battle of Britain was at its peak; air-fighting reached an unimaginable intensity.
Throughout the months of July, August, and September the destiny of Britain and the free world hung in the balance, resting upon the shoulders of a tiny band of youthful fighter pilots.  Desperately short of aircraft, spares and supplies, and with its young flyers heavily outnumbered, this heroic band flew and fought from dawn to dusk until the Luftwaffe was driven from the skies of England.  The courage, skill, determination and sacrifice of these pilots will forever be remembered for the battle they won.  They rescued Britain from Nazi invasion and turned the tide in the Second World War.
Fondly remembered for its part in the victory is the remarkable Hawker Hurricane: this tough, stable fighter bore the brunt of all operation flying during the epic air battle, no fewer than four-fifths of all air victories being credited to the pilots of this outstanding fighter aircraft.  Without it the battle would have been lost.
In his inimitable style, Robert Taylor has miraculously captured the mood so typical of those long frantic days: Flt Lt Tom Dalton-Morgan and his wingman return to base at Tangmere.  More fuel, more ammunition, a sandwich and a cup of tea, then with that familiar roar of Merlin engines they will be airborne again, ready to engage the next wave of Luftwaffe raiders.  In a few fleeting weeks Tom Dalton-Morgan will be promoted to Squadron Commander.
EXCLUSIVE BOOK AND PRINT EDITION
TOMMY LEADER
Proudly displaying Robert Taylor's painting on the cover, this autobiography is issued as a case-bound limited edition book, enclosed in a gold embossed deluxe burgundy cloth slipcase, and presented with a matching numbered copy of Robert Taylor's limited edition print Tommy Leader.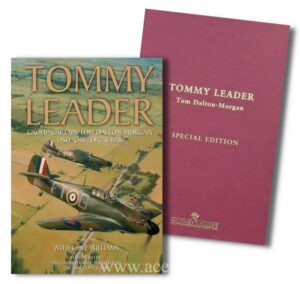 This outstanding first edition hardback book is the story of Tom-Dalton Morgan, a man determined to fly and who achieved his ambition by being accepted for pilot training by the RAF in 1934.
He flew in the Battle of Britain and was one of the few fighter pilots to shoot down Luftwaffe bombers at night in a single engine day fighter.  He subsequently flew many operations over occupied Europe and was awarded nine British and foreign decorations.
He sadly passed away in 2004, leaving behind the manuscript for this fascinating autobiography.  At his express request it was launched by Aces High and published in conjunction with Robert Taylor's powerful painting.
THE LIMITED EDITION
Commissioned specially to be used as the book cover, Robert's superb limited edition print TOMMY LEADER is personally signed by legendary Battle of Britain Ace Tom Dalton-Morgan, together with  two other famous Battle of Britain fighter Aces who flew from Tangmere and Westhampnett. Each print is personally signed by the artist Robert Taylor and issued with a matching numbered copy of Tom's autobiography of the same title.
Group Captain TOM DALTON MORGAN DSO OBE DFC* – 17 victories
Group Captain BILLY DRAKE DSO DFC* –  24½ victories
Wing Commander PADDY BARTHROPP DFC AFC – 5 victories