Description
Robert Taylor's comprehensive work Eagles on the Channel Front, the fourth and final print in his widely acclaimed "Wings of the Luftwaffe" series, recreates a scene in northern France in the late autumn of 1941. Having just returned to their temporary airstrip in the region of St. Omer, Luftwaffe pilots of JG-26 excitedly debrief their recent encounter with Spitfires and Hurricanes, fought high over the Channel coast. The gleaming new Me109F's are discreetly parked under trees on the edge the airfield, providing some cover from low-level surprise attacks. While ground crews busily prepare the Wing's Me109s for another mission, a group of the exciting new Fw190A fighters taxi out. The scenario will continue right into winter.
In his inimitable style, and with inordinate skill, Robert Taylor manages to evoke the heady atmosphere of a German front line airfield on the Channel Front in 1941. With the entire edition signed by Luftwaffe Aces who flew the great air battles of WWII, this wonderfully atmospheric image provides aviation art connoisseurs with a truly remarkable and valuable collector print.
THE LIMITED EDITION
Prints are signed by Luftwaffe Aces who contested the great air battles with pilots of the RAF on the infamous Channel Front, 1940-1941:
Oberstleutnant HEINZ MARQUARDT KC
Oberst JOHANNES NAUMANN KC
Oberleutnant ERHARD NIPPA KC
Major GERHARD SCHOPFEL KC
Oberleutnant GÜNTHER SEEGER KC
THE COMMEMORATIVE PROOFS
Limited to just 75 copies worldwide, each print in this edition is accompanied with a copy of Adolf Galland's book: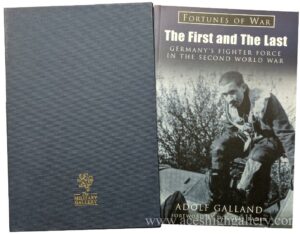 THE FIRST AND THE LAST
Germany's Fighter Force in the Second World War
By Adolf Galland
One of the classic books to come out of WWII, Adolf Galland's autobiography is written with the stark reality of aerial warfare ever present.  The General recounts how he trained as a pilot in the 1930s, joined the Condor Legion that served in the Spanish Civil war, and went on to play a major role in the Battle of Britain, when he commanded the legendary JG26 Fighter Wing.  By 1941 he was a household name on both sides.
Containing a number of photographs, this highly collectible edition was issued in a lavish gold-blocked slip-case with a mounted bookplate individually autographed by:
Generalleutnant ADOLF GALLAND KC WITH OAK LEAVES SWORDS AND DIAMONDS