Description
This special edition portfolio includes the graphite print Aces on the Western Front by Robert Taylor which is personally signed by two iconic Luftwaffe Aces:
Generalleutnant GÜNTHER RALL Knights Cross with Oak Leaves & Swords
One of the greatest Aces of WWII he flew Bf109s with JG52 in the West and in Russia and later flew Fw190s with JG300 finishing the war as the third highest scoring Ace in history with 275 victories.
Hauptmann ULRICH STEINHILPER
Qualifying as a pilot in 1939 he flew Bf109s during the Battle of France and the Battle of Britain with JG52, but was shot down and taken POW in late 1940 having reached Ace status with 5 victories.
THE BOOK
Each portfolio includes a matching numbered special edition copy of the outstanding biography "My Logbook" by Günther Rall. The book is also personally autographed by Günther Rall and issued in a gold embossed slipcase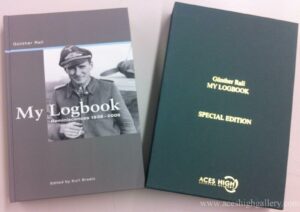 Much has been written about Günther Rall, one of the most extraordinary pilots of all time. In this outstanding book he tells his own story. From his youth in Nazi Germany to the first harsh realities of air combat over France and England. Of being hounded by the Gestapo while at the same time being showered with awards by Hitler. Of the 275 aerial victories that placed him among the top three fighter pilots in history. Of an operational career that began on the Me109 and culminated with the F-104. A life, unequalled in war and peace, and in the skies above four continents.
Released in 2007 this portfolio is one of only 300 ever issued and has been sold out for a number of years. Now only available on the secondary market we have recently acquired two mint condition sets from private collections making this a great opportunity for aviation art collectors and history enthusiasts alike to acquire this unusual and seldom found acquisition.
Book size: Approx 10 x 7 inches