Description
This superb pair of prints commemorating the 70th Anniversary of the Battle of Britain are available individually or as part of a matching-numbered pair.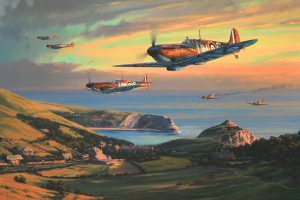 13 August 1940
Fresh from a successful action with Me110s and Me109s, Spitfires of 152 Squadron, with the distinctive sound of their Merlin engines echoing around Lulworth Cove, return to their base at Warmwell to re-fuel and re-arm.
Each print in every edition is individually hand numbered and signed by the artist along with two highly respected Spitfire pilots who flew during the Battle of Britain:
Warrant Officer DAVID DENCHFIELD
Wing Commander GEORGE SWANWICK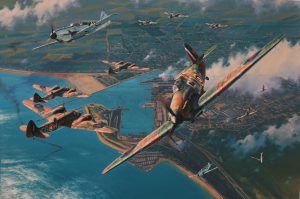 28 August 1940
The Battle of Britain is at its height but the threat of invasion is still a deadly reality. As the country waited, grim and expectant, for Hiltler's Operation Sealion to be put into action, Blenheims from 105 Squadron make another strike against German troop barges assembling in the northern French port of Boulogne. Overhead, escorting Hurricanes of 501 Squadron engage in a savage tussle with Me109s of JG3.
Each print in every edition is individually hand numbered and signed by the artist along with two highly respected Battle of Britain veterans:
Flight Lieutenant TERRY CLARK DFM AE
Squadron Leader TONY PICKERING AFC