Description
Developed during an ultra-secret 'black project', by Lockheed's secretive Skunk Works division, the F-117 became operational in 1983 but was shrouded in secrecy until it was revealed to the public in 1988.
With a maximum speed of 684 mph, it was designed specifically for night-time ground attack and was the first operational aircraft to be designed with stealth technology to avoid radar detection. In fact its development was kept so classified that very few people at Lockheed and the Pentagon knew the program even existed.
Known as the Stealth Fighter this revolutionary aircraft carried out many significant missions during its 25 years of service including Operations Just Cause, Desert Storm, Joint Guard and Enduring Freedom. During the 1991 Gulf War alone the F-117 flew 1,300 sorties scoring direct hits on 1,600 high-value targets without losing a single aircraft.
The F-117 was officially retired in 2008, although a number are kept in a state of readiness, and this iconic fighter remains one of the most distinctive and ground-breaking aircraft in the history of aviation.
THE GICLÉE EDITIONS
THE MAIN EDITION
Limited to 200 copies worldwide, each archival Satin paper giclée print is signed by the artist and issued with a Certificate of Authenticity.
THE STUDIO PROOFS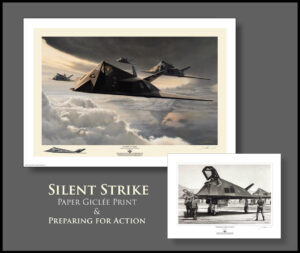 Each Studio Proof is enhanced with a specially commissioned Remarque drawing printed in the lower border and is issued with the companion pencil print Preparing for Action.
THE GICLÉE PROOFS ON CANVAS
Using the most sophisticated digital Giclée technology, each Canvas Proof is printed directly on to fine canvas creating the look and feel of an original painting.  Each canvas is hand accented and varnished by artist John Shaw.
The Canvas Edition is exclusively limited to 75 copies in total but is available in two different sizes:
42″ x 26″ and 36″ x 24″
Other sizes are also available to special order – please ask for details.