Description
Flying the high speed low-level 'Day Ranger' missions in the Mosquito was one of the most exhilarating forms of aerial combat experienced by aircrews in WWII.  Given a free hand at squadron level to select targets of opportunity deep inside enemy held territory, operating the fastest piston engined aircraft of the war, the Ranger Mosquito crews wreaked havoc in the air and on the ground literally all over occupied Europe.
Approaching their targets at tree-top height, often completely undetected, the element of surprise was usually total; one pair of Mosquitoes arriving over an airfield near Kronigsburg found a ceremonial parade in progress, broke up the party, and departed within seconds leaving five aircraft burning and a bunch of German generals diving for cover beneath their staff cars!
Typical of the Day Ranger squadrons was No. 418 (City of Edmonton) Squadron RCAF.  Flying the Mosquito Fighter-Bomber MkVI, they completed over 3000 effective missions, destroyed 172 enemy aircraft – 73 on the ground – damaged a further 103 and, in addition, brought down 83 buzz-bombs and destroyed countless other ground vehicles.  In company with other Mosquito Ranger squadrons, they rampaged across Europe with outstanding courage in the best traditions of the RAF and Commonwealth Air Forces.
Robert Taylor's painting dramatically brings to life a Mosquito attack on a German fighter station deep inside Germany. Arriving over the target at little above hangar height, the two-ship mission announce their arrival by raking the field with cannon and machine gun fire. Within seconds both aircraft have scored direct hits with their 50lb bombs, and before the defensive flak guns can get the range, the pair have departed for home.
Each Edition in this release is truly unique, each includes the main print Rangers on the Rampage, plus a different companion print along with a separate assortment of signatures.
THE RAF EDITION
Issued with the companion Print MOONLIGHTING, each main print is signed by: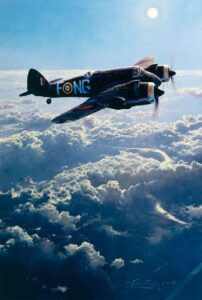 Air Marshal SIR IVOR BROOM KCB CBE DSO DFC AFC
Squadron Leader TJ "TOMMY" BROOM DFC
Squadron Leader RICHARD "TERRY" KEARNS DSO DFC DFM
Squadron Leader CHARLES PATTERSON
Air Commodore E. B. "TED" SISMORE DSO DFC AFC AE
The companion print Moonlighting is signed by:
Group Captain JOHN "CATS-EYES" CUNNINGHAM CBE DSO** DFC* AE FRAES
THE RCAF EDITION
Issued with the companion print MOSQUITO STING, each main print is signed by:
Air Commodore E. B. "TED" SISMORE DSO DFC AFC AE
Air Marshal SIR IVOR BROOM KCB CBE DSO DFC AFC
Squadron Leader RICHARD "TERRY" KEARNS DSO DFC DFM
The companion print Mosquito Sting is signed by:
Wing Commander RUSS BANNOCK
Wing Commander "MOOSE" FUMERTON
THE ANZAC EDITION
Issued with the companion print SHIPPING STRIKE, each main print is signed by:
Squadron Leader R.B. COWPER DFC*
Squadron Leader RICHARD "TERRY" KEARNS DSO DFC DFM
Flight Lieutenant FS "FRED" STEVENS
Air Marshal SIR IVOR BROOM KCB CBE DSO DFC AFC
Flight Lieutenant SJ "STAN" WILLIAMS
The companion print Shipping Strike is signed by:
Group Captain BRIAN "BLACK JACK" WALKER