Description
Richard's spectacular drawing, completed on buff paper with subtle color highlights, depicts Ken Trent and his crew as they gather in readiness for 617 Squadron's raid on the Valentin U-boat construction facility at Farge, north of Bremen, 27 March 1945. Their modified Lancaster carries a massive "Grand Slam" bomb as the final preparations are made the aircraft.
This special edition print comes in a set with a matching numbered copy of the book: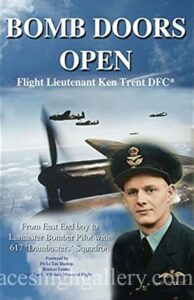 BOMB DOORS OPEN by Flight Lieutenant KEN TRENT DFC*
Ken Trent's remarkable story begins in the East End of London before taking him on a journey through RAF pilot training, to serving with 617 Squadron and completing more than forty perilous missions on Lancaster bombers over the unfriendly skies of occupied Europe.
Ken recalls these events with modesty and an unfailing sense of humor which serves as an inspiration to all.
THE LIMITED EDITION COMMEMORATIVE PORTFOLIO
The limited edition includes a copy of the book BOMB DOORS OPEN personally signed by the author:
Flight Lieutenant KEN TRENT DFC*
Each book is accompanied by the matching numbered print GRAND SLAM by Richard Taylor which is personally autographed by three distinguished airmen that flew with 617 Sqn during WWII:
Flight Sergeant CHARLES AVEY
Wing Commander JOHN BELL MBE DFC
Flight Lieutenant ARTHUR F. POORE DFC
THE TRIBUTE EDITION
Each portfolio is accompanied by an ORIGINAL pencil drawing by Richard Taylor which is personally signed one of 617 Squadrons greatest commanding officers:
Group Captain JAMES "WILLIE" TAIT DSO*** DFC* ADC
The drawing is conservation matted to include the additional original signatures of two famous 617 Sqn pilots:
Squadron Leader MAC HAMILTON DFC
Flight Lieutenant FRED WATTS DFC