Description
Major Dick Winters and the men of Easy Company, 101st Airborne Division, take up a holding position in the Normandy town of Carentan on 14 June 1944, eight days after their dramatic parachute drop into Normandy on D-Day.
They have just endured a prolonged and bitter battle to secure the area, and at last the unit can enjoy a brief respite from the hand-to-hand fighting as they prepare for the next phase of their advance into France. Eventually it will lead them through the horrors of the Battle of the Bulge to the capture of Hitler's personal "Eagles Nest" at Berchtesgaden, and the final liberation of Europe.
This outstanding release from acclaimed military artist Chris Collingwood, brings these heroic warriors to life with stunning realism.
THE AIRBORNE COLLECTION WITH EXCLUSIVE BOOK
The print is individually numbered and hand signed by the artist and Four original members of Easy Company – the legendary "Band of Brothers."
Corporal HERB SUERTH
Colonel ED SHAMES
Sergeant PAUL ROGERS
Sergeant AMOS "BUCK" TAYLOR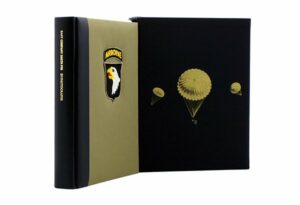 THE BOOK – EASY CO. 506th PARACHUTE INFANTRY REGIMENT – IN PHOTOGRAPHS
This extraordinary 232 page book, compiled by Easy Company's official historian Jake Powers, features over 400 rare photographs and items of memorabilia, including maps and diary extracts. The majority of these have come directly from the personal collection of Major Dick Winters, who worked closely in the publication of this outstanding title.
Hand-bound by craftsmen using part leather and M1942 jumpsuit material, the book features a sewn replica 'Screaming Eagle' patch on the cover and is enclosed within a black cloth-covered slipcase, silk screened with golden parachutists. The book features special book plates which are personally signed by the following Easy Company veterans:
Staff Sergeant WILLIAM "WILD BILL" GUARNERE
Lieutenant JOHN FOLEY
First Sergeant FRANK SOBLESKI
Private HANK ZIMMERMAN
Corporal HERB SUERTH
Lieutenant LYNN "BUCK" COMPTON
Corporal FORREST GUTH
Sergeant First Class DON MALARKEY
Private JOSEPH A. LESNIEWSKI
Together with a 20,000 word text written by the surviving veterans of Easy Company, there are contributions from Steven Spielberg and Tom Hanks who co-produced the celebrated mini-series Band of Brothers; and from actors Damian Lewis and James Madio – who played the parts of Dick Winters and Frank Perconte in the Band of Brothers mini-series.
The set also includes highly collectable extras like:
'Jump Into The Fight!' – A facsimile reproduction of the 1942 US Army recruitment leaflet.
An unseen town plan of Haguenau – a map belonging to Major Richard Winters from January 1945, with hand-marked annotations outlining the positions and movements of his men along the Rhine river.
An exclusive DVD of the 2005 Easy Company reunion tour of Europe.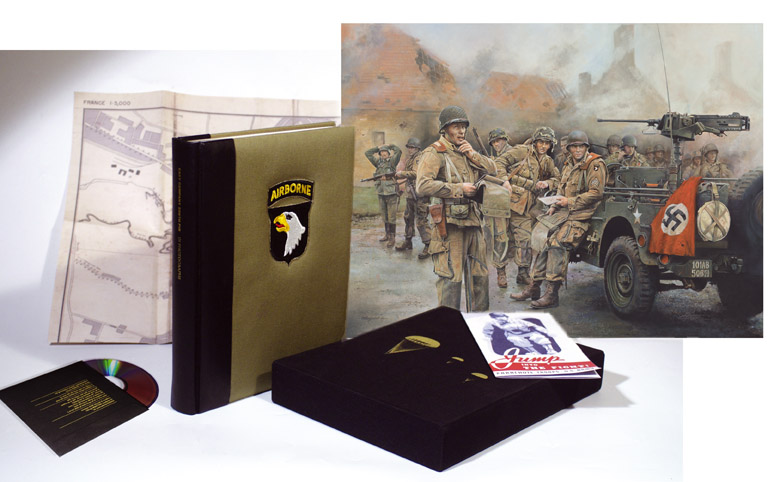 Just 250 of these amazing collector's sets were produced and have been sold out since its release in 2009. We rarely see them on the secondary market these days, and we have just one available making it the perfect piece any Airborne enthusiast.