Description
Richard's stunning pencil drawing, completed on buff paper with color highlights, depicts Lancaster AJ-F, piloted by Canadian Ken Brown, powering away from the Sorpe Dam as a huge plume of water erupts behind it. This was the second and final attack on the impenetrable dam which just a few hours earlier was attacked by "Johnny" Johnson's Lancaster AJ-T. Both aircraft scored direct hits.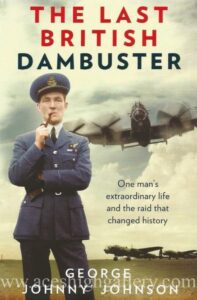 THE LAST BRITISH DAMBUSTER
by George "Johnny" Johnson
Johnny Johnson is one of very few men who can recall first-hand the most daring and ingenious air raid of all time – Operation Chastise.
In this superb book he relives every moment of that fateful night with unique wit and insight.  Johnny's story is like no other.
THE LIMITED EDITION COMMEMORATIVE PORFTOLIO
Each portfolio includes the artist signed Limited Edition Print ATTACKING THE SORPE DAM,  along with a copy of the book THE LAST BRITISH DAMBUSTER personally signed by the author:
Squadron Leader GEORGE JOHNSON MBE DFM
THE COLLECTORS EDITION & REMARQUES
With all the components of the Limited Edition, each print has been conservation matted to include the original signatures of two veterans who took part in the Dambusters Raid:
Sergeant RAY GRAYSTON
Corporal KEN LUCAS