Description
Nicolas Trudgian's cameo drawing features the iconic Luftwaffe Me262 – the first Jet to fly operationally during WWII.
The drawing has been conservation framed and matted to include the original signatures of two of the most accomplished Me262 Aces of WWII: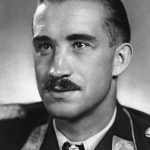 Generalleutnant ADOLF GALLAND Knights Cross with Oak Leaves. Swords & Diamonds –
104 victories
Already an experienced Ace at the start of World War II, Galland led the famous JG26 in combat against the RAF's best in the Battles of Poland, France, and Britain.  In 1941 he was promoted to Inspector General of the Fighter Arm, a position he held until the end of 1944.  In February 1942 Hitler personally selected Galland to organize the fighter escort for the spectacular "Channel Dash."  He became the youngest General in the German High Command, but his open disagreements with Goering led to his dismissal so he reverted to combat flying, forming the famous JV44 Me262 jet wing.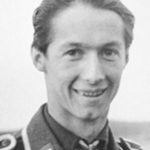 Oberleutnant WALTER SCHUCK Knights Cross with Oak Leaves –
206 victories 
By April 1943 Walter Schuck had collected 54 victories with JG5 in Norway, and in June chalked up his 100th victory during a day when he shot down six aircraft; making him the leading Ace on the Arctic Front.  He commanded JG5 before transferring to fly the Me262 as Staffelkapitan of 3./JG7, where he shot down 8 aircraft in the jet.