Description
A MUSEUM COLLECTOR'S PIECE
This detailed original pencil drawing formed the concept that would become one of Richard Taylor's most highly regarded paintings – Holding the Line.
This pencil drawing has been conservation framed and matted to include Museum quality reproductions of: a Panzerkampfabzeichen (Panzer Badge), a Pour le Mérite, and a Knight's Cross with Oak Leaves, Swords and Diamonds.  
Additionally, this piece includes a portrait and original autograph of: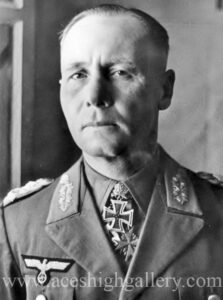 Generalfeldmarschall ERWIN ROMMEL – Knight's Cross with Oak Leaves, Swords & Diamonds, Pour le Mérite

A highly decorated soldier in WWI – where he was awarded the Pour le Mérite for his actions on the Italian Front – Rommel remained in the Army between the wars.
Having gained a reputation as an outstanding Military tactician he began WWII as a General, leading the 7th Panzer Division through the invasion of France, where its speed and surprise tactics earned it the nickname of Gespensterdivision ("Ghost Division").
But it was his command of the Afrika Korps, and his battles with Field Marshal Montgomery in the Western Desert, that his successes earned him iconic status, and he was given the nickname "The Desert Fox". His chivalry, humane treatment of prisoners and desire to conduct "a war without hate", earned him the highest level of respect, not only from his own soldiers but also his enemies. Even Winston Churchill hailed Rommel as a "great general".
Never a supporter in Nazi ideologies, Rommel was implicated in the July 1944 plot to assassinate Adolf Hitler. He was given the option to face a public trial or to protect the lives of his family and his staff by committing suicide. He chose the latter and died from a cyanide capsule on 14 October 1944.
"Rommel deserves our respect because, although a loyal German soldier, he came to hate Hitler and all his works and took part in the conspiracy of 1944 to rescue Germany by displacing the maniac and tyrant."
Sir Winston Churchill, 1950
This piece has been created as a Museum collector's item for the purpose of historic wartime preservation. It is in no way intended to support, condone, or encourage extremist political views.