Description
The men of Easy Company, 506th Parachute Infantry Regiment, 101st Airborne Division, prepare to leave Upottery Airfield on board the C-47s that will carry them into France on the night of D-Day, 5/6 June 1944.
Crossing the enemy occupied French coast in complete darkness, under heavy AA fire, the 101st and other Airborne Divisions parachuted into Normandy, close to the village of Ste. Mere-Eglise.  Their historic drop launched one of the first actions of the greatest military invasion in history, spearheading the massed landings of Allied forces that heralded the beginning of the end of the Third Reich.
Easy Company went on to distinguish themselves throughout the European Campaign: In September 1944 they jumped into Holland, liberating the town of Eindhoven; they fought at the Battle of the Bulge and, in their final mission, captured Hitler's famous hideout, the "Eagles Nest", at Berchtesgaden.
This highly detailed and carefully researched pencil drawing was specially commissioned by the Military Gallery, working in close liaison with James Dietz, one of America's foremost artists.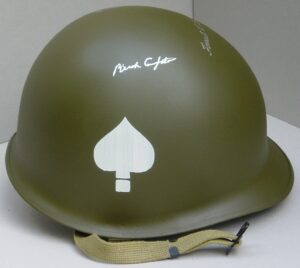 This highly restricted print edition is issued with a genuine US military issue combat helmet from which was created a museum quality collector's piece in Easy Company markings.  Each helmet is beautifully displayed in a specially created presentation box.  Commemorating the men and the gallant deeds of the 101st, the edition size is appropriately limited to just 101 sets worldwide.
THE SIGNATURES
The prints and helmet comprising this unique collection have been personally signed by TWELVE veterans of Easy Company.  Each limited edition print has also been signed by the artist James Dietz, and both prints and helmets are issued with matching numbers.
The helmet is autographed by:
Lieutenant LYNN "BUCK" COMPTON
Corporal FORREST GUTH 
Sergeant First Class DON MALARKEY 
The print is personally autographed by:
Sergeant ROD BAIN
Staff Sergeant WILLIAM "WILD BILL" GUARNERE
Private EDWARD "BABE" HEFFRON 
Private ED JOINT 
Private First Class BILL MAYNARD
First Sergeant FRANK SOBOLESKI
Corporal HERB SUERTH
Sergeant BUCK TAYLOR 
Private First Class HANK ZIMMERMAN 
This superb piece has been conservation framed in our studios to include the original pencil autographs of the following Easy Company veterans:
Private 1st Class BILL WINGETT
Sergeant PAUL ROGERS
Colonel ED SHAMES
Sergeant EDWARD TIPPER
Master Sergeant CLARENCE "CLANCY" LYALL
Sergeant EARL McCLUNG
Lieutenant LYNN "BUCK" COMPTON (has also signed the helmet)
Corporal FORREST GUTH (has also signed the helmet)
Sergeant First Class DON MALARKEY (has also signed the helmet)
Just 101 sets were produced and this amazing collector's item has been sold out since its release in 2006. It is seldom found on the secondary market these days, making it the perfect centerpiece for any collection.